If You Are Already On Steemit Or On Ulogs.org Or The Steem Blockchain In General, This Is How You Can Turn Any Dream Into A Reality.
---
If you completed the video above, you will have received vast insight into "how to turn any noble dream into reality".
One pertinent thing that i have mentioned is that "a dream isn't entirely a dream, if it is not spanless". Identifying and establishing this, is a huge step forward and will drastically take us closer to "turning a dream into a reality"
Another thing that i mentioned is "dreams equaller reality now" (than has ever been the case). Especially if you are steem, you will understand this statement better.
I intend to write an entire article that would expand on the video above. In the meantime, i will leave you with a list of things to explore while on steem. These things will help you build a dream.
Many times we get too invested into just the blogging aspect of steem, that we never get to see the full extent of steem's beauty. Steem constitutes 'blockchain technology" and blockchain technology in general can have really vast beauty, depending on how much of it we explore or put to use. If we apply blockchain technology also towards dream-building, blockchain technology will excel and enter the ranks of "great", else blockchain itself will fade or stay ordinary.
Speaking of the blogging aspect of steem though, each post can stay ordinary or can enter the ranks of "great", if we apply each post towards more testimonial essence in "building a noble dream".
When we can all build a noble dream and turn it into reality, Mama Earth will find more of its beauty.
In applying steem towards building our dreams, we will need to explore steem. We will need to know what we have here and exhaust these resources. So, how much do we know about steem?
In a day or two, i will write a more elaborate article expanding on the topic at hand. In the meantime, make sure to digest the content of my video (above), especially its context. Then, do the following (below) and we will go from there:
Explore https://steemprojects.com (Understudy it. Know what we have and what we don't have. Have fun!)
Explore https://utopian.rocks by @amosbastian (Visit it daily. Explore what others are passionately doing or attempting to do, on steem)
Where you are stuck, contact me: comsilbronze4@gmail.com
If you don't know about steem or steemit yet, sign up here: https://signup.steemit.com/?ref=ulogs
Note: the video above was also made to target non-steemians. Infact, i am "rehearsing a dream into fruition". Recall that i plan to open a Macrohard physical hub (starting with the Philippines), to gather the nations to "code with swag" and the video gives some insight into some-of-the-things that i will be teaching programmers and non-programmers who gather at the hub.
Do You Want To Know About My Dreams?
I implore you to kindly buy out time to watch the entirety of my 43:43 mins video below!!!
https://youtu.be/MeyDmb-wNTs
The video speaks about me, the histories and stories and especially, me in my current state. It explains what 'surpassinggoogle' is and how close we are to Surpassing Google. It also speaks about my shattered body but also touches on all the positives.
Then, it goes on to explain 'Macrohard', which you can read more about in clearer details here.
To send me FIAT with debit/credit card click HERE
Bitcoin: 34qnjNrdw3jLMPBN9UWHEWN6zsrfZsC7Ra
Ethereum: 0xfd5c4f2fe8da3eda1025681f0f86570849249d63
LTC: LdJQWRPmRWup7YX3AFz5pHSBmMeuAjcgA2
My PayPal email: 'comsilbronze@yahoo.com'
My Email: 'comsilbronze4@gmail.com' (In-case you need it for some remittance apps)
My bank account: Bank of the Philippines (BPI)/acct no: 9809131839/name: Terry Christian Ajayi/acct type: Savings
my "Thank You" is hefty.
Your Boy Terry
@surpassinggoogle
You can support the Fundition post for Steemgigs Development here:
https://fundition.io/#!/@surpassinggoogle/gl2uccyjz
Special Note
If you are a developer or anyone who passionately loves these projects e.g ulogs.org, steemgigs.org the teardrops SMT etc and would like to help build it and see that it comes to life, kindly send an email to uloggers@gmail.com
There is a lot to build.
If you are a potential advisor and one who can help with directions, suggestions and connections, please join in too by sending an email to uloggers@gmail.com
When it comes to raising some capital, it is not very defined yet what we will do but again, with "a truly solid community of brothers", nothing is impossible. It is highly likely that there won't be an ICO, even though our primary project ulogs.org is aiming to "surpass google" and would require a real budget. We will look for ways to accomplish our goal without an ICO, taking the more testimonial harder route.
When a team is in place though, these are things that we will discuss.
Kindly vote for the "steemgigs" witness.
Dedicating My Entire Steem/Steemit Journey To My Mum
If you want to support an extra witness and you support mine "steemgigs", it will be really helpful.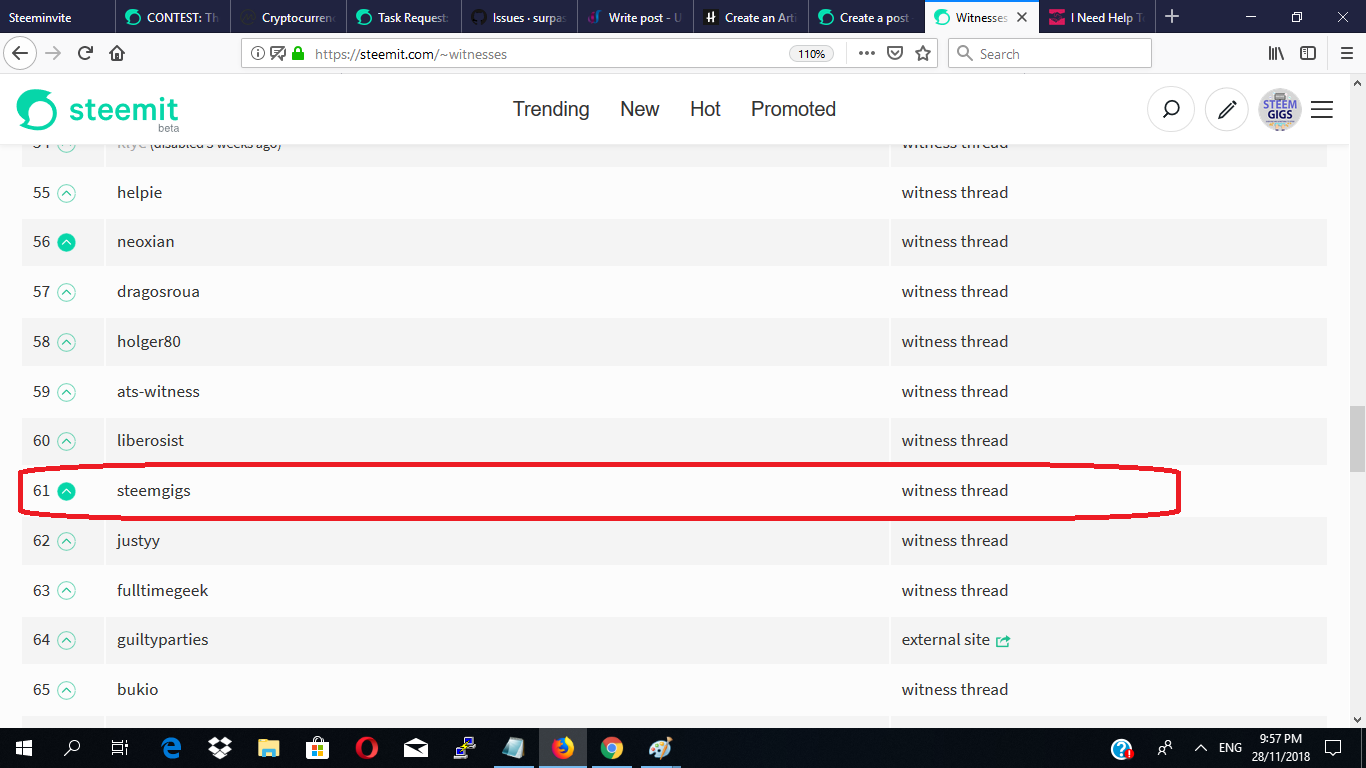 To vote my witness, simply visit https://steemit.com/~witnesses and upvote "steemgigs" or simply click Here to do it on one click!
https://steemitimages.com/DQmdKyejpH4V9VkPL23PjRMYfhbLjGK4Wm1hqaJVFmnyb8K/VOTE%20WITNESS.gif
If you want me to make witness voting decisions on your behalf, simply visit https://steemit.com/~witnesses and type in "surpassinggoogle" in the second box for proxy.
Subscribe to us on YouTube: UloggersTV
Become A Certified Ulogger
Disregard if you have participated!
Hi family, note that the whole ecosystem for the Teardrops SMT will be built around "certified uloggers". It will reward "proof of tears" or "mining the human" and will be used also as a token of influence on 3 steem-based interfaces i.e steemgigs.org, ulogs.org and @macrohard; all of which are modeled to "mine the human" into its awesomest version and all of which will be built around "a growing list of certified uloggers".
It is time to grow this list and gather now.
Note that the teardrops smt will seek to reward "past deeds" too. The @teardrops token should be loved and succeed, "bulls or bears" because "human" is involved.
Thus, we will build this token around "certified uloggers" as these ones are "true celebrities", who are also "true fans" of human and of the "teardrops token", which is "an emblem of human".
It is time to gather now.
Kindly help me participate by going through this google form and filling it up, if you have done a post at any time, under any of these tags: #ulog #untalented #steemgigs #teardrops #surpassinggoogle.
https://goo.gl/forms/jR5sPPoqkwM8zzvl1
If you have never done a post under any of the tags mentioned earlier above, please read this form carefully and participate, by filling it up:
https://goo.gl/forms/G1GmCp83lcmM5xeZ2
Consider contributing a video ulogacy for uloggerstv
We will gradually be sending out a URL linking to exclusive chat-rooms for "certified uloggers". We will send this in an email.
Please share appropriate form to any friend or acquaintance, who has a steem account.
---
▶️ DTube
▶️ IPFS