Legit Illiteracy: Is "Good Or Bad" Really AnyThing? Bigger Things Than M...
---
So this is another rough video but 'rough' is fine;
'you will get the gist'
.
It is related to
'a school
', an entire school called
"Legit Illiteracy";
a school that i consider
'my gift to the world'
. This school has existed in the nooks & crannies of
'down-to-earth'
but has not been documented into secular curriculum(s) and thus hasn't been taught.
I will teach it!
You can gain some insight into 'Legit Illiteracy' below:
the mind's eye of a 'legit illiterate'
and touching on the topic
'Good or bad'.
Morals end up popping up in many conversations. People value how they are perceived and for their own sake as well, humans in general have an inclination to know whether an activity etc is 'good or bad' as part of decision-making(s)
Now
"good or bad"
does exist but are there bigger things than "good or bad"? Will decision-making be better if it explore 'other facets' besides just morals. Will fighting temptations, addictions etc be easier, if we had many other deterrents besides "good or bad"?
Well, i cover this and more in this fun video. Well, 'boring video' but one laced with rough, out-of-the-boxness, down-to-earthness, dirt, nonsense, legit illiteracy etc
Perhaps there will exist times when i will be protocol-ed and all; but for now, i am just plain, rough and very illiterate. Don't be mistaken though,
my 'illiterate' is the 'legit' one.
Not to prolong matters, i will now pause.
Try 'boring' today
.
See my video till its end.
I am pushing again!
Your boy Terry
@surpassinggoogle
Quick sIDE-note
If you are a programmer and you have time on hand, i have two open tasks with bounties:
Hey There!
Visit https://ulogs.org/vote-ulog-witnesses to vote on your Ulog-Witnesses.
There aren't many ulog-witnesses just yet but this number will grow over time. Currently, we have these steem witnesses on our list:
@quochuy @enginewitty @jackmiller @c0ff33a @steemgigs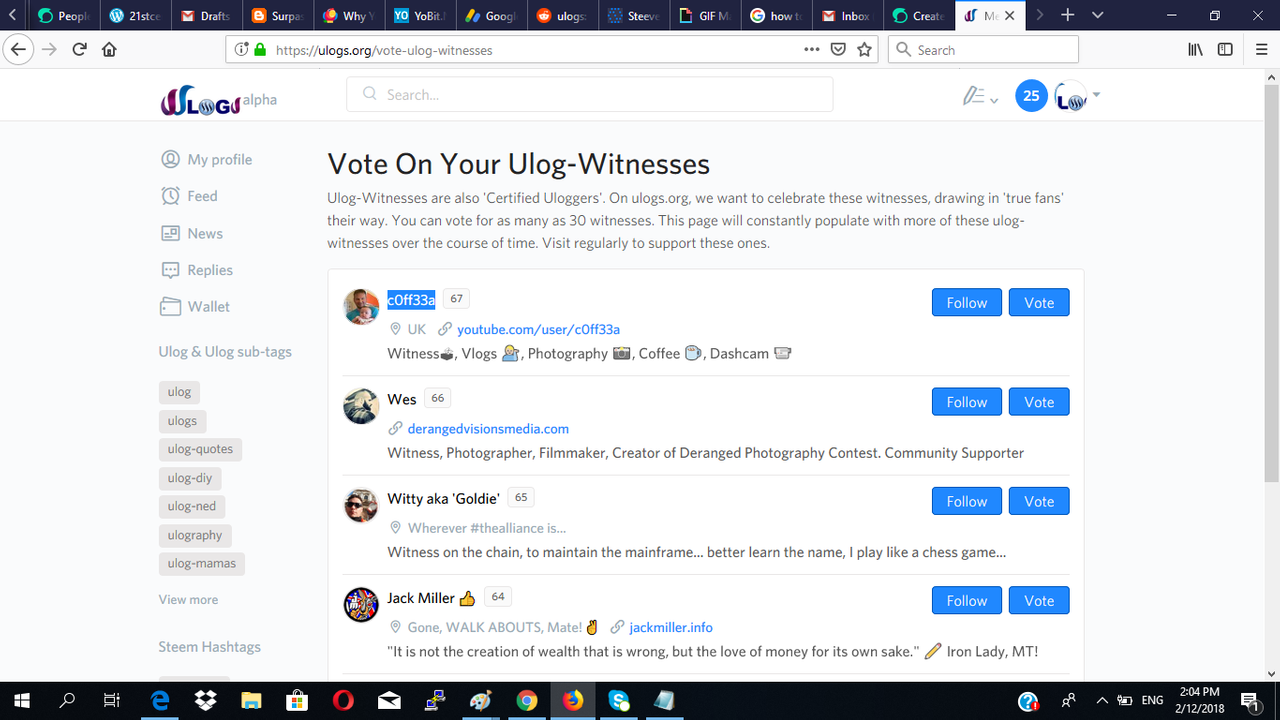 I Have A Fundition Post
I wrote a recent fundition targeted at helping me begin my healing. I really want to restore https://steemgigs.org to life and function.
This is it:
Special Note
If you are a developer or anyone who passionately loves these projects e.g ulogs.org, steemgigs.org the teardrops SMT etc and would like to help build it and see that it comes to life, kindly send an email to uloggers@gmail.com
There is a lot to build.
If you are a potential advisor and one who can help with directions, suggestions and connections, please join in too by
sending an email to uloggers@gmail.com
When it comes to raising some capital, it is not very defined yet what we will do but again, with "a truly solid community of brothers", nothing is impossible. It is highly likely that there won't be an ICO, even though our primary project ulogs.org is aiming to "surpass google" and would require a real budget. We will look for ways to accomplish our goal without an ICO, taking the more testimonial harder route.
When a team is in place though, these are things that we will discuss.
Another Special Note
In the upcoming task request for ulogs.org, you will really see how massive the #ulog project is and where it is headed.
It is world adjusting and it will need solid hands.
Kindly vote for the "steemgigs" witness.
Dedicating My Entire Steem/Steemit Journey To My Mum
If you want to support an extra witness and you support mine
"steemgigs"
, it will be really helpful.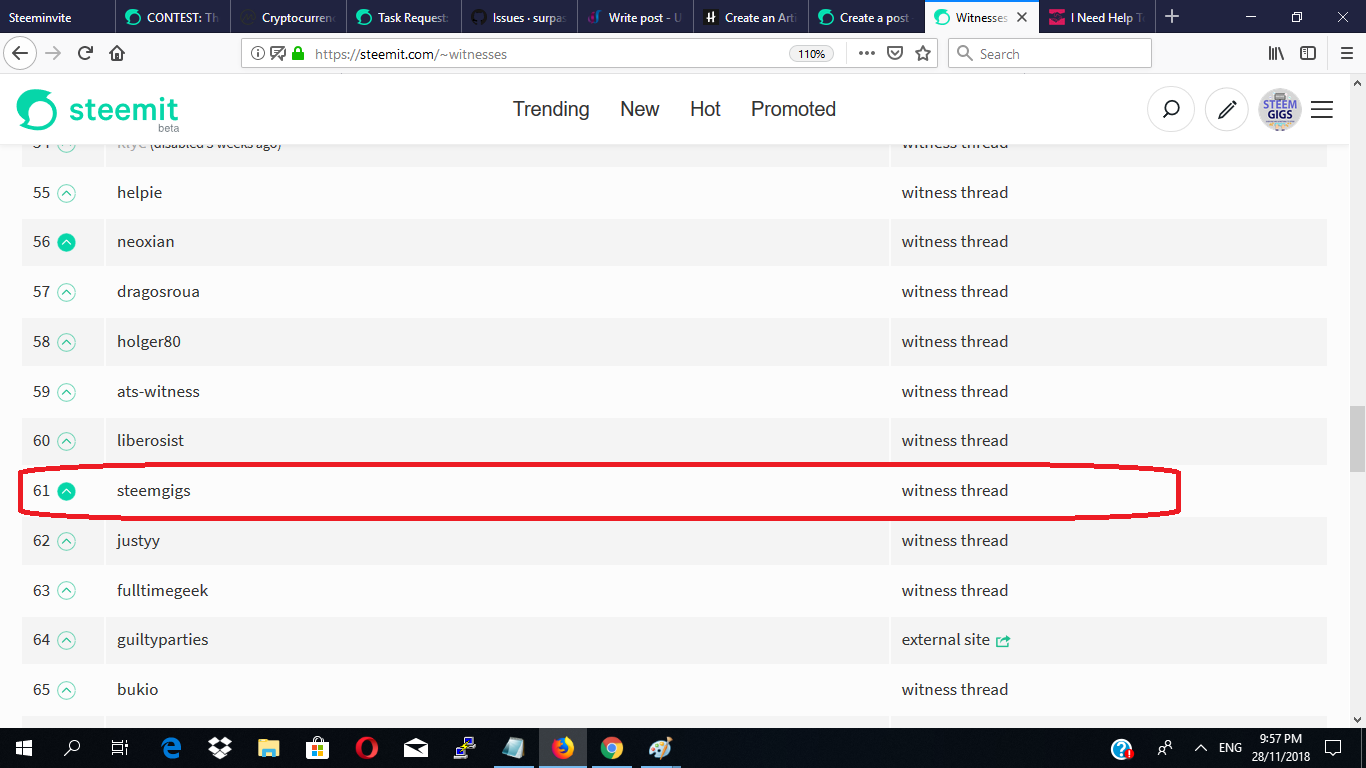 To vote my witness, simply visit https://steemit.com/~witnesses and upvote "steemgigs" or simply click Here to do it on one click!
https://steemitimages.com/DQmdKyejpH4V9VkPL23PjRMYfhbLjGK4Wm1hqaJVFmnyb8K/VOTE%20WITNESS.gif
If you want me to make witness voting decisions on your behalf, simply visit https://steemit.com/~witnesses and type in "surpassinggoogle" in the second box for proxy.
Subscribe to us on YouTube:
UloggersTV
Become A Certified Ulogger
Disregard if you have participated!
Hi family, note that the whole ecosystem for the Teardrops SMT will be built around
"certified uloggers"
. It will reward
"proof of tears"
or
"mining the human"
and will be used also as a token of influence on 3 steem-based interfaces i.e steemgigs.org, ulogs.org and @macrohard; all of which are
modeled to "mine the human" into its awesomest version
and all of which will be built around
"a growing list of certified uloggers"
.
It is time to grow this list and gather now.
Note that the teardrops smt will seek to reward "past deeds" too. The
@teardrops
token should be loved and succeed,
"bulls or bears"
because
"human" is involved
.
Thus, we will build this token around "certified uloggers" as these ones are "true celebrities", who are also "true fans" of human and of the "teardrops token",
which is "an emblem of human".
It is time to gather now.
Kindly help me participate by going through this google form and filling it up, if you have done a post at any time, under any of these tags:
#ulog
#untalented
#steemgigs
#teardrops
#surpassinggoogle
.
https://goo.gl/forms/jR5sPPoqkwM8zzvl1
If you have never done a post under any of the tags mentioned earlier above, please read this form carefully and participate, by filling it up:
https://goo.gl/forms/G1GmCp83lcmM5xeZ2
Consider contributing a video ulogacy for uloggerstv
We will gradually be sending out a URL linking to
exclusive chat-rooms
for "certified uloggers". We will send this in an email.
Please share appropriate form to any friend or acquaintance, who has a steem account.
---
▶️ DTube
▶️ IPFS