Everything That Constitutes Surpassing Google In January 2019
In the Philippines, it is December 1, 2019. I intended to recap 'the year 2018' yesterday but it turned out impossible.
In this post, i will do a quick recap. I hope this post gives me the push i need especially in January 2019, (an especially critical month in my life's journey) as well as inspire steemians, uloggers and the world to continue, en-route fly-state
I am starting 2019 strongest.
I am in the weakest moment of my life now but this January, i am going to push the hardest. This like one last ditch effort at a push.
There are dates now (light) and 2019 it is.
Alot Happened In 2018
We all know by know some of the unforeseen occurrences that laden my 2018. It was tough. In 2018, my health perils became extremely worse too.
At this point, my health issue is my biggest fear and this is the case, especially because i now live with my dad who is terminally ill and i have to begin to really take care of him.
I wasn't able to do this effectively since he arrived here in 2018 and this haunts me the most (per day). I have lived an entire life longing to give my parents as well, their first real whisper of good news.
When i felt as though i am closest to doing so towards the end of 2017, my mum passed away.
In her dying days, i wasn't there for her (enough) either and this still haunts me till date. I was half-human and i just watched. I was able to accomplish nothing of my loving intentions towards my mum and in her last 16 days (with me), i was a valueless son.
I want to help my dad, more than anything starting this year and i doubt life can stop me. I am done consoling him and promising dates that never arrive.
Besides, now (more than has ever been the case), the entire model that constitutes "surpassinggoogle" has begun to attain set-state
So, i have to push seriously one more time, with hopes that my dreams can begin to attain fly-state (starting ASAP).
Yes, there were a lot of positives in 2018 too. I learned a lot last year.
The development of my projects faced many setbacks last year but i continued learning. While it is very obvious that i wasn't effective last year, i am set to be very effective this year.
Now, that the path is clear and all insights are revealed, all i need is one more serious last-ditch-push this January, which i am undertaking, with hopes that, for the first time in my entire life, i will begin to find my very first rest, in February.
In January, i will push very hard towards the development of ulogs.org, steemgigs.org and i will push hard to set-up the first physical Macrohard hub in the Philippines (to gather the nations to code with swag). This is a great start.
When these projects begin to find a measure balance, i will begin a rehabilitation towards my health in February.
I haven't had a yawn in years. I want to be able to yawn again.
The model constituting 'surpassinggoogle' is clearer than ever and the keyest word in this regard is "every(any)one". Synonymous to every(any)one is "removing all barriers to entry".
You will notice this core theme_model across all my projects and the teardrops SMT.
Ulogs.org: 'remove all barriers to entry' from shining, to effect, "true celebrity-hood for everyone once and for all
Steemgigs.org: 'remove all barriers to entry' from dream-building, to effect, 'everyone has something to offer'
Macrohard:remove all barriers to entry' from programming, to where, 'everyone can code with swag'
Then, we will celebrate the resulting 'breakthrough in human', with 'an emblem of human' &' breakthrough token' called the teardrops SMT, which has a ColorlessPaper, that is written un(dis)talentedly, so that everyone can have a piece of it.
The Teardrops SMT should succeeds bulls or bears, because humans are involved.
The model behind 'surpassinggoogle' is very-very-very simple.
This will show over the course of time.
I love steem. There is always 'steem growth' among the paradigms for my projects. Thus, all my projects are modeled to 'remove all barriers to entry', from steem growth.
As my projects begin to attain completion, i will begin to write the courses/curriculum(s) that will make up a school called legit illiteracy; an entire school that i want to gift to Mama Earth.
Legit Illiteracy is a school that every(any)one can attend, regardless of levels of literacy etc. In this particular school, everyone is suddenly 'genius'. Read more 1, 2, 3
As highlighted earlier, in early January, i have to start Macrohard in my house, however low-scale its set-up. I couldn't raise funds to support this project. You can support it.
To send me FIAT with debit/credit card click HERE
Bitcoin: 34qnjNrdw3jLMPBN9UWHEWN6zsrfZsC7Ra
Ethereum: 0xfd5c4f2fe8da3eda1025681f0f86570849249d63
LTC: LdJQWRPmRWup7YX3AFz5pHSBmMeuAjcgA2
My PayPal email: 'comsilbronze@yahoo.com'
My Email: 'comsilbronze4@gmail.com' (In-case you need it for some remittance apps)
My bank account: Bank of the Philippines (BPI)/acct no: 9809131839/name: Terry Christian Ajayi/acct type: Savings
my "Thank You" is hefty.
Regardless though, i will exhaust whatever resource i have to make sure this hub begins. By its means, i can impact real world impact in the lives of many youths in the Philippines and empower them to be able to cater to generations.
We need to break the cycle of hand-to-mouthism (that appears to shape the world), starting here and it is very possible if each one is able to dream a noble dream.
In December, i began to push hard again as i wanted to end 2018 strong and things are slowly falling in place with my projects. You can visit the new look steemgigs.org and read more about its recent development below:
You can support the development of steemgigs.org by sending a donation to @steemgigs or by delegating any amount of steem power to @steemgigs using this tool (created by the young @cadawg)
Later today, i will resume writing 'task requests' via utopian.io, towards the development of steemgigs.org and this will continue actively throughout the month of January.
My recent task request for the development of ulogs.org can be seen below:
Thank You
I wish i can enlist every name within this post, who have been part of my story, history and journey, each person that has seen value in all my movements here e.g #teardrops, #untalented, #steemgigs #ulogs etc
I want to thank everyone.
In face of bulls or bears throughout the course of my journey here on steem, humans have decided to stick with me and even when i have not ask support, steemians have gathered, to be with me.
I am so grateful.
In the last few days of December, when i was practically dying, two brothers visited with me.
I especially want to thank @petertag and @tobias-g.
These ones have heartily come around to pick me out of the rubble. They have helped me with the development of steemgigs.org & ulogs.org, whether bulls or bears
My thank you is Hefty
Indeed, My thank you is Hefty and is further reason for me to push very hard starting today. My thank you should have weight and occupy space and pushing very hard to bring my projects to life on behalf of nations is an especial evidence that i am grateful.
So, i am bound to push hard.
When breakthrough holds sway, we will celebrate each human with the teardrops SMT.
Inspire Me
I am Terry, 'your boy terry' and i implore you to kindly buy out time to watch the entirety of my 43:43 mins video below:
https://youtu.be/MeyDmb-wNTs
If you can buy out more time, please see the entirety of this video:
https://www.youtube.com/watch?v=KFO_NipT4IM&t
If you can buy out more time, please see the entirety of this post!
Your Boy Terry
@surpassinggoogle
Special Note
If you are a developer or anyone who passionately loves these projects e.g ulogs.org, steemgigs.org, macrohard the teardrops SMT etc and would like to help build it and see that it comes to life, kindly send an email to comsilbronze4@gmail.com
There is a lot to build.
If you are a potential advisor and one who can help with directions, suggestions and connections, please join in too by sending an email to comsilbronze4@gmail.com
Kindly vote for the "steemgigs" witness.
Dedicating My Entire Steem/Steemit Journey To My Mum
If you want to support an extra witness and you support mine "steemgigs", it will be really helpful.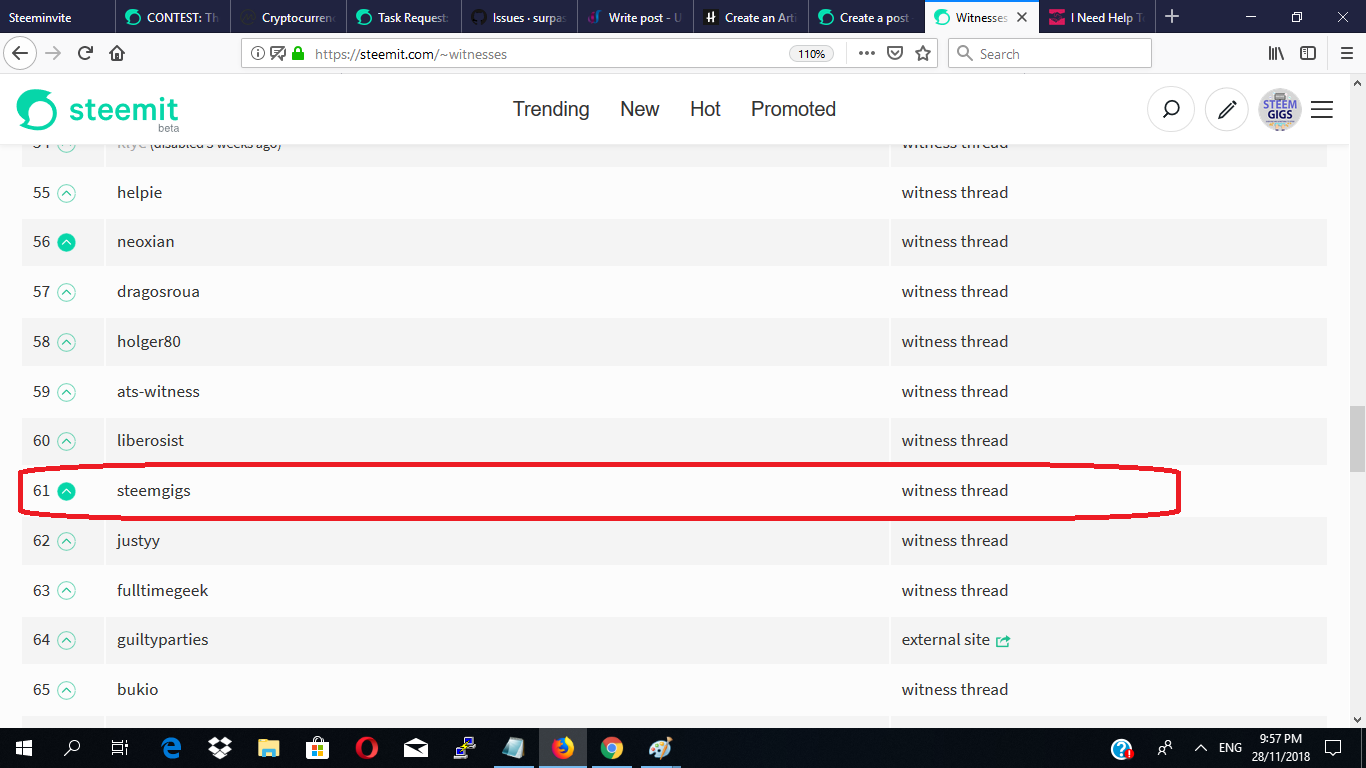 To vote my witness, simply visit https://steemit.com/~witnesses and upvote "steemgigs" or simply click Here to do it on one click!
If you want me to make witness voting decisions on your behalf, simply visit https://steemit.com/~witnesses and type in "surpassinggoogle" in the second box for proxy.